Kitchen Sink Cookies
Judging by the state of my studio, I am clearly a process oriented person. Finishing a quilting or knitting project may thrill some, but usually my interest has turned to the next great idea before the first is complete. The time has come for a fresh start, and a re-examination, of the many lovely unfinished fabric/fiber objects (UFOs) filling my studio.
Beginning in early April, I'll show before and after pictures of UFOs as they are wrestled to completion. Some will be quilts, others knit, and maybe a few yarns will be spun.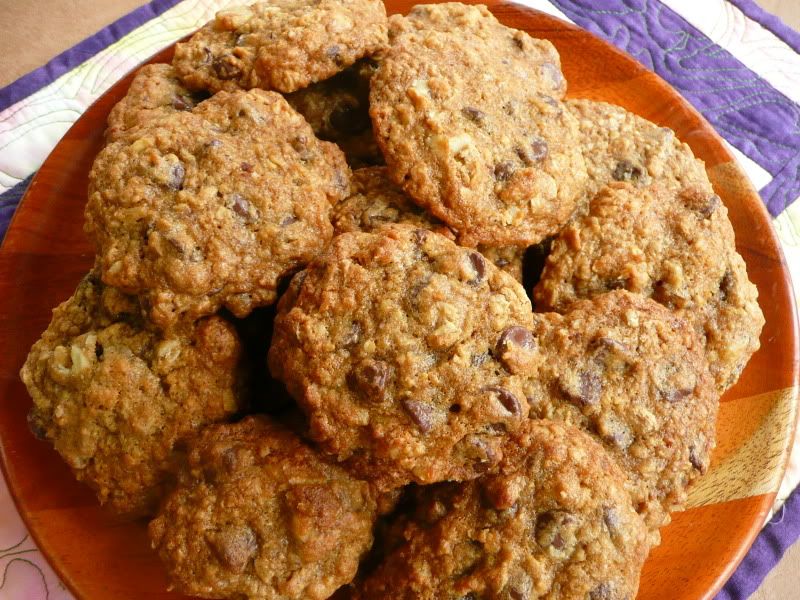 In the meantime, grab a virtual Kitchen Sink Cookie. I baked a batch of the real thing this afternoon. Tossing in a little of this and a little of that is my usual recipe, but here's what I used today.
Kitchen Sink Cookies
1 cup (2 sticks) butter, room temperature

1-1/4 cup brown sugar, packed tightly

1/2 cup sugar
2 eggs
2 Tbsp. milk
2 tsp. vanilla extract
1 cup white flour
¾ cup whole wheat flour
1 tsp. baking soda
½ tsp. salt
2-1/2 cups uncooked quick oats
16 oz. chocolate chips
1/2 cup chopped walnuts
Options: Substitute your favorite chips, nuts, and/or dried fruits for the chocolate chips and nuts that I used. Make them the Kitchen Sink Cookies of the Day at your house.

Pre-heat oven to 375 F. Beat butter and sugars until creamy. Add eggs, milk and vanilla; beat well. Add flour, baking soda and salt; mix well. Stir in oats, chocolate chips, and nuts; mix well. Drop by rounded measuring tablespoonfuls onto un-greased cookie sheet. Bake 9-10 minutes for a chewy cookie, or 12 to 13 minutes for a crisp cookie. Remove to wire racks to cool. Place in tin to keep fresh. Yield: 5 doz. 2-1/2" cookies. Enjoy!

Labels: cookies, fresh start, knit, knitting, quilt, quilting, UFO